We at Epsom are proud to be one of the best Invisalign providers in Auckland, New Zealand.
Invisalign is an alternative to traditional braces that speeds up the process of aligning your teeth without the presence of metal.
Over an average of 12 to 18 months period, a series of clear aligners are inter-changed to gently move your teeth into the correct position. With Invisalign, you are able to remove your aligners to eat as normal and align your teeth without others knowing you are doing so.
Invisalign gives our customers confidence in knowing that they are making the right decision when it comes to aligning their teeth.
You can read about our services and what Invisalign does in our previous posts on our blog which cover every common query our customers have had since we began our Invisalign services.
We are very excited to announce that we are now a Diamond Level Invisalign provider; giving us pride in knowing that we provide the best possible service for your Invisalign treatment.
Diamond level is a 'Super Elite' status, where a dentist must have treated a specific amount of cases within one year to acquire the status.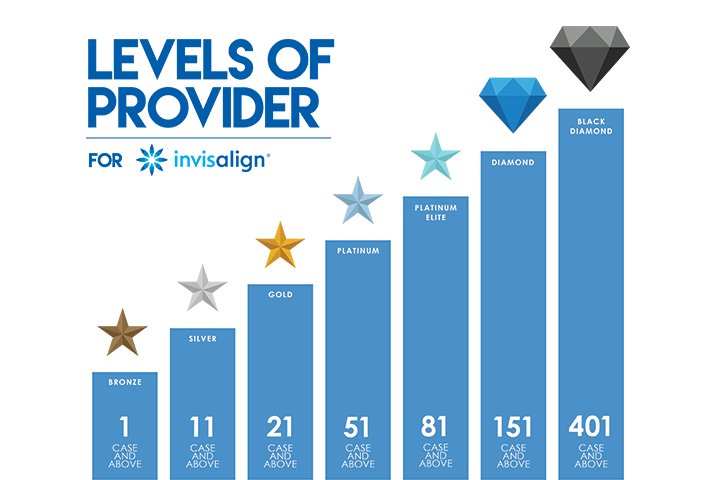 You may be wondering: why is this so important?
Deciding to start the Invisalign treatment is a big decision in your life.
Our patients seek comfort in knowing that the Orthodontic dentist conducting the treatment is highly experienced, trustworthy, and most importantly has a success rate that guarantees the best results possible.
Receiving this award means we provide all of this and more.
We are proud to say that we have one of the most experienced Invisalign Orthodontic dentist here in the Auckland, New Zealand.
In choosing to have treatment with us, you will have fewer complications during or after the treatment. In the unfortunate case that this is not so, our Diamond Level orthodontic dentist will solve the issue with ease.
Diamond Level status means experience.
With this experience, we know that our orthodontic dentist will find a resolution to the most difficult cases. Those without knowledge would not be able to treat complicated cases as they do not know Invisalign like we do.
We have the know-how to use Invisalign to your advantage. Aligning your teeth should be a rewarding process. With our Diamond Level status, we can provide a service that will leave you feeling confident and proud of your smile.
In celebration of receiving Diamond status from Invisalign, we are giving $1000 off Invisalign treatment fee until the 30th of June 2018.
Terms and Conditions apply, please see our website for details.